1.
How does it release on a large
scale to every sold out device after App has completed debugging?
Answer: the platform partner uploads his/her
own App to Sumni App library via the partner platform, and then it can be
realized by enabling this App's automatic installation function in My App
Market. Please check the details in release App in the developer
document.
2.
How to prevent other people
from modifying the App in the device that has been spread
out by himself/herself?
Answer: the partner can set at the
backstage: 1. App can only be installed onto the device via App market. 2. It
is necessary to obtain debugging permission to debug the device via mobile phone
number or E-mail at the device.
3.
What is Sunmi virtual Bluetooth
print?
Answer: a virtual Bluetooth link realized
by Sunmi based on physical link. In every Bluetooth list of Sunmi devices with
print, there will be a Bluetooth signal named "InnerPrinter", which is not
different from ordinary Bluetooth as for business App and can be used as
ordinary Bluetooth printer.
4.
Can your device obtain root
permission?
Answer: No. For the security of the device,
Sunmi sets a limit not to be able to obtain root permission of the device.
5.
Is it OK to customize Sunmi's
systems?
Answer: The advantage of Sunmi is: controlled
and customizable systems. All the system default installation Apps can be set
at the partner backstage, including the startup picture of the system, system
desktop, default enabled App.
6.
How to claim App?
Answer: When you find the following prompt
in creating new App, it demonstrates that a partner has already uploaded your
App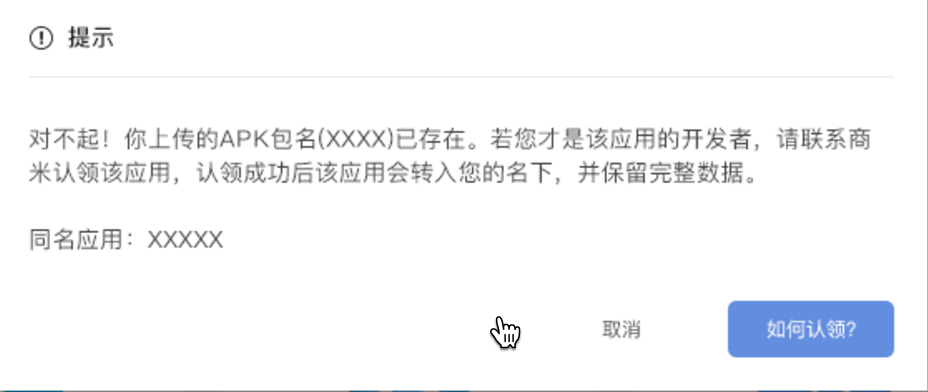 This App is sure to be owned by your
company, please send a mail to claim this App.
Claim mail format:
Title: claim App
Main body of the mail:
claim App-App of the same name (package
name), contact person, contact information.
And add into the mail attachment the
company's business license, the corresponding certificate of software
copyright, etc.
Note: App of the same name here is referred
to the App name displayed on Sunmi platform, which may be different from your
actual App name
7. App upload failure or cannot
upload?
Answer: If your encounter the information
of "cannot upload" such as parsing failure, etc., please confirm that APK
compile packaging is normal. If the following situations occur, the going on
sale of App will be influenced
1.
ARM library files are not
included in the package file when compiling APK, which will lead
to the impossibility of normal
installation.
2.
App signature is not packaged
in the package file when compiling APK, which will lead to
abnormal signature.
3.
The version number
(versionCode) of the previous version is not selected when compiling
APK, which will lead to the impossibility
of delivering App.