Debugging the Devices
About Sunmi device debugging
(This tutorial is only applicable to
non-financial devices. If you need to enable the debugging permission of Sunmi
series devices, please contact the sales
personnel)
You can debug after plugging in USB line to
default Sunmi device. Sunmi has also provided the control function for device
debugging permission. After the partner has enabled debugging permission
control in the background (as shown in the following figure), it is necessary
to obtain debugging permission via E-mail or mobile phone number to debug this
device. If you cannot directly debug, please check whether the partner
backstage has enabled this permission.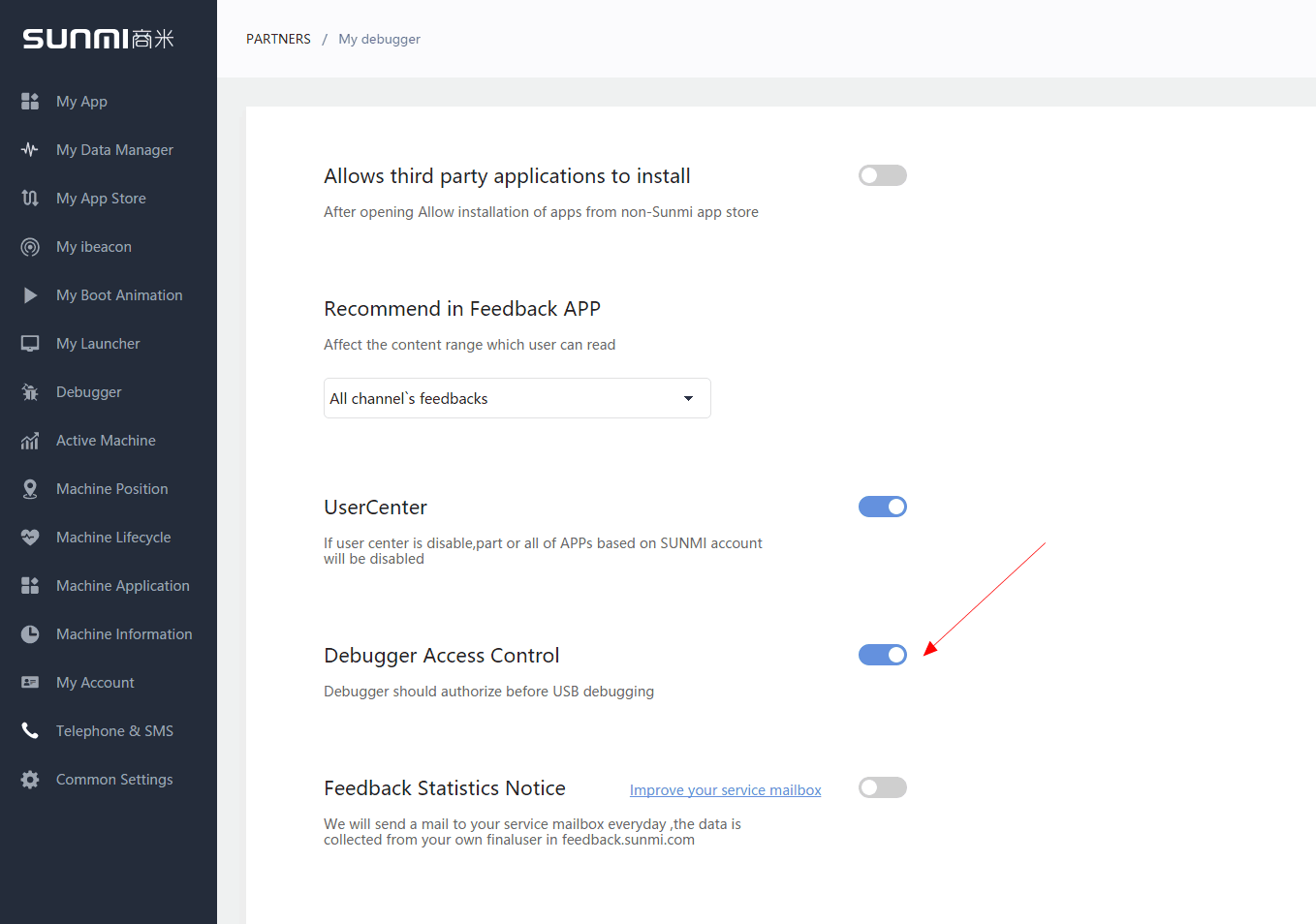 Note: the control of debugging permission
takes effect only to the devices that have bound partners (channels).
How to debug device while the permission is on
If the partner has enabled "debugging
permission control", the developer need to obtain the debugging permission via
E-mail and mobile phone number on his/her own device to debug the device. The
partner can add the mobile phone number or E-mail of the debugging
personnel (developer) on the Sunmi partner platform. Steps to obtain
the device debugging permission as follows:
1.Add debugging
personnel
Before debugging the device, the developer
is required to know the channel that the device belongs to. He/she can look for
the management personnel relevant to his/her own company for inquiry. The management
personnel needs to add the debugging
personnel's mobile phone number or E-mail in Sunmi partner platform
background.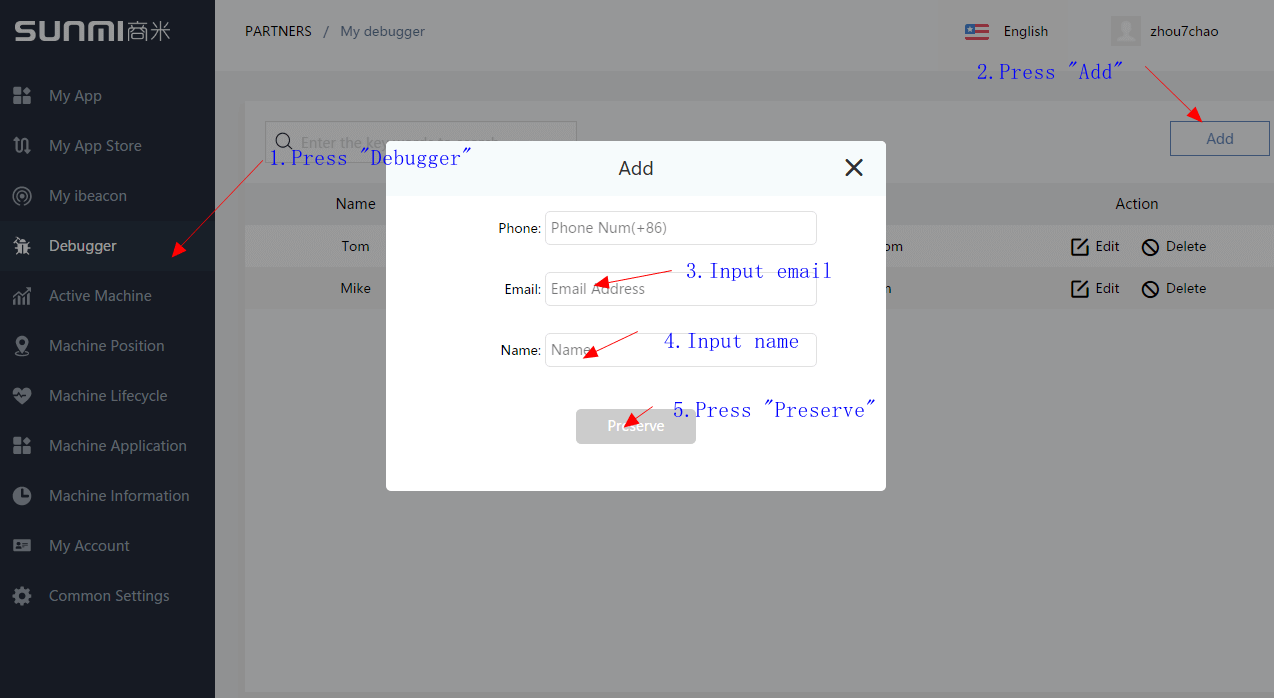 2. Plug in USB.(Please switch off the 'debugging permission control' temporarily on V1sV2M2L2)
Connect the device to the computer after
confirming that you have your own mobile phone number or E-mail for debugging
permission. It is suggested that the developer debug under windows. If the mobile
phone can be correctly recognized by the computer, the popup prompt as follows
will normally appear: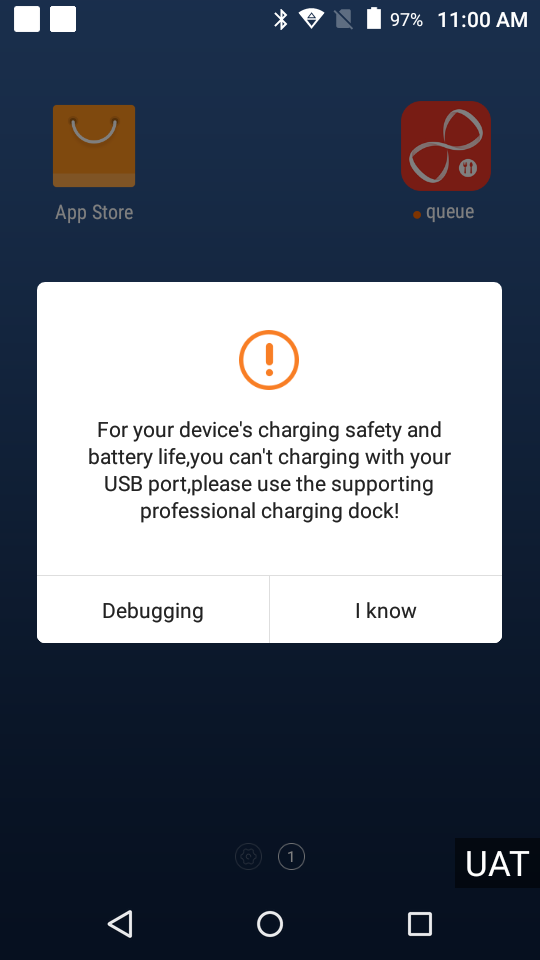 If the device has not been recognized by
the computer, please confirm whether it is caused by the following causes.

Poor contact. Please confirm by
plugging & twisting USB port several times.
Data line fault. Try to change
one data line to see whether it can be recognized.
If the computer has not
installed mobile device driver, you may use third party tool software to install.
3.Get the veification code
Click the above "I want to debug" item, you
will enter the step of permission verification via mobile phone number or
E-mail. Meanwhile, the USB debugging mode of the device will be enabled by
customization (here it refers to the basic debugging mode, but not permission);
click "Got it" and it will quit the popup and USB debugging mode will not be
enabled.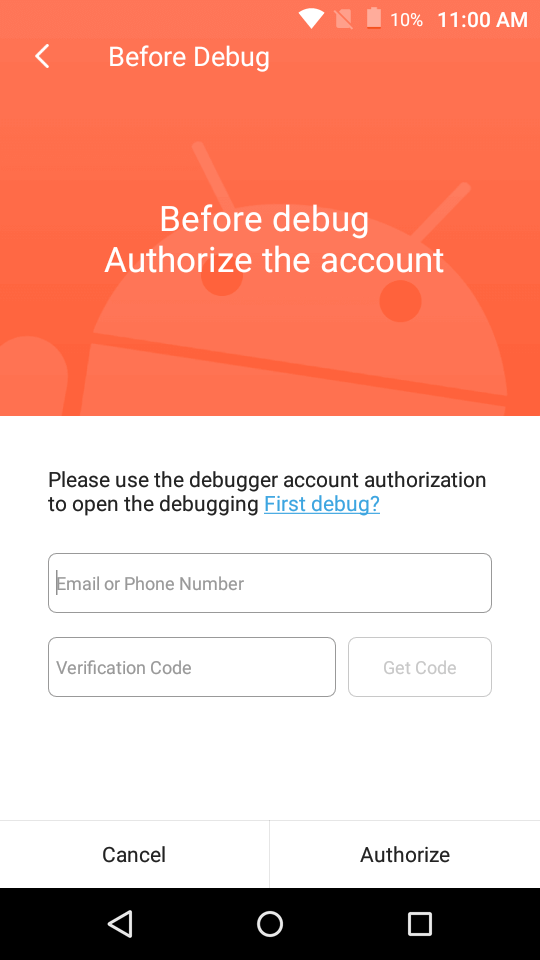 4. Verify the permission
Click "Obtain the verification code" after
entering the previously added mobile phone number or E-mail. Sunmi will send
the verification code to the mobile phone number or E-mail. Fill in the
verification code and click "Authorize and enable debugging"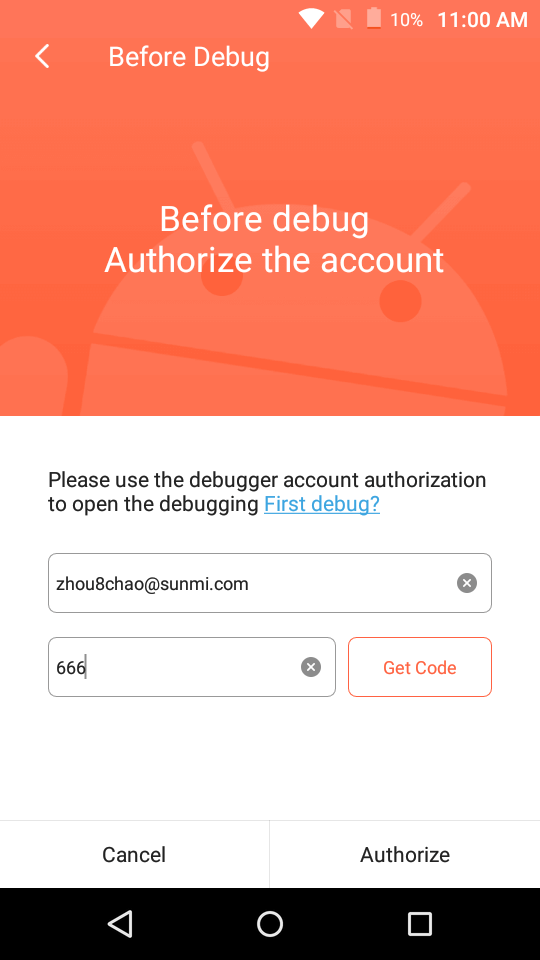 5.Open the permission.
After opening the permission, you can check whether there is output
in logcat to judge if it's OK to debug the device.